Review: Nendoroid Doll (White Rabbit)
The yen is down, and Mandarake had a few Nendoroid Dolls for 5000 yen, so I decided to buy White Rabbit and have a male Nendodoll to go with the females I've pre-ordered.
If you're not already familiar with Nendoroid or Nendoroid Doll, I recommend going here to see what it's all about. (Link is info by Good Smile Company, the company that makes the dolls.)
Here is what came in the box:
The doll in his outfit
A magnetic base
A stand arm
Extra hands
Rabbit ears
And White Rabbit's outfit:
Red jacket
Shirt with attached waistcoat
Gray shorts
Black socks
Brown shoes with magnets
The Body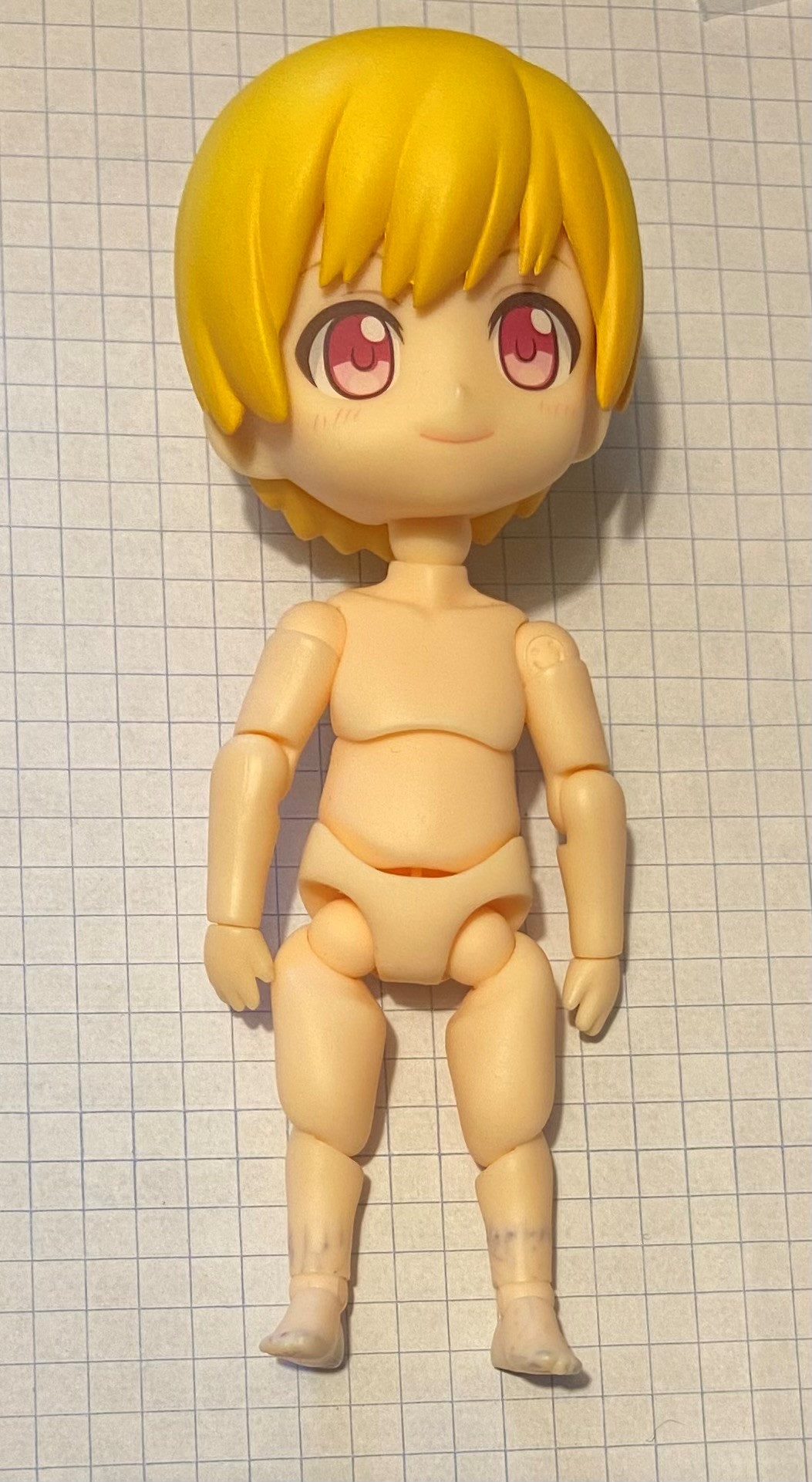 Despite the layer of clear plastic between Rabbit-kun's body and his socks, the feet and lower calves were already slightly stained with dye when I unboxed him. I'm not worried about this, though, because a little Oxy10 (the acne ointment) will clean that right off.
Nendoroid doll feet, and their official shoes, have magnets in the soles to help them stay upright on their stands. You still need the stand arm to keep the doll steady for long periods of time, though, because of that huge head.
Rabbit-kun has pink eyes, just like the White Rabbit in Alice in Wonderland. His little face is adorable! His blond hair is a simple, versatile cut, so he can be a regular "boy doll" character if you want.
The ears are attached to each other by a thin strip of clear plastic that fits in between the front and back hair pieces. This makes it easy to change up his look without making a weird gap in the head.
The extra hands are the typical closed-fist and peace-sign hands of Nendoroid Dolls. I don't feel the need to show those off.
The stand is a typical Nendoroid Doll stand. It has options to either hold your doll around the waist, or stick into the hole in his back. The stand arm is magnetic, so you can stick it to the part of the main stand that you want. This basically serves the purpose of the multiple peg-holes in a traditional Nendoroid stand.
The Clothes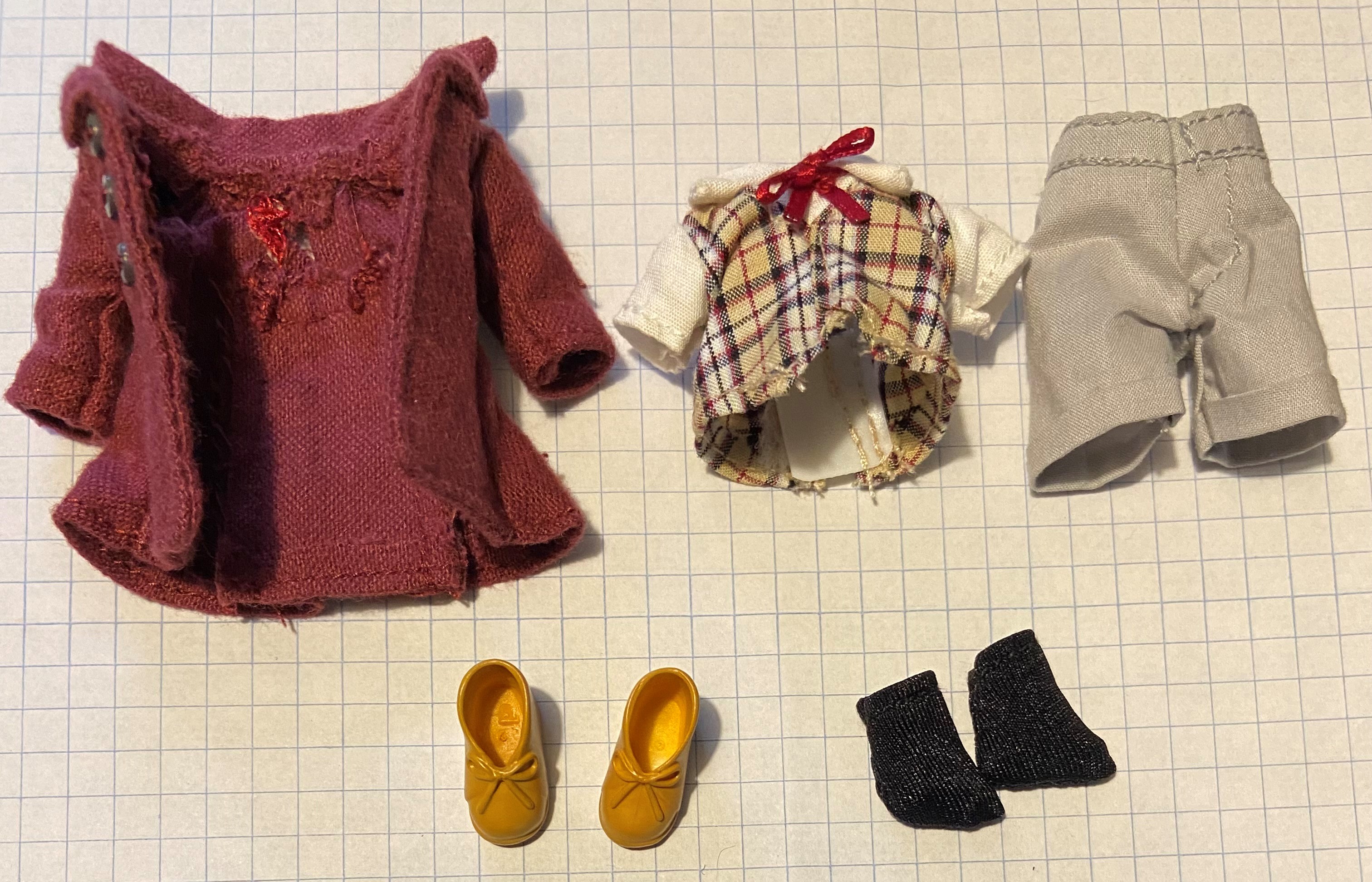 On to the outfit. His peacoat has little buttons! They don't fasten anything, but at this scale I don't expect them to.
The shirt and waistcoat are all one piece. This keeps the outfit from looking too bulky. The ribbon tie is super-cute! My only complaint is that there's no detail to look like a pocket. The rabbit takes a watch out of his waistcoat pocket at the beginning of the book! It's kind of an important detail!
The gray shorts are very versatile. I've tried them with a T-shirt and they still look very cute. I like that you can basically dress them up or down. They have an elastic waistband in the back, so there is no fastener.
The socks and shoes are very nice. I'll probably make or buy some Nendo sandals at some point so he can have summer shoes too, but for now I'm very happy with his little brown booties.
My Two Cents
I love this little guy! White Rabbit is a great choice for a first Nendoroid Doll for people who want to see what they're all about. His head and outfit are easy to adapt to your OC, and his charming Nendoroid proportions just make me want to take him everywhere and show him off! He can also wear any clothing made for Nendoroid Dolls, which means I may use him as a model for outfits I make.
The one downside is that there isn't a resealable bag for his little hands! I've got some tiny resealable bags I can use for this purpose, though, and Good Smile also offers a Nendoroid parts box specifically for storing all your extra hands in.
10/10 I got him at a discounted price, but he is definitely worth paying full price for!
Return to Reviews page